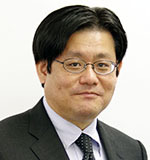 I have worked as a driving force at Newton Information Technology since its start in London in 1998 and established its business basis in Europe. And in 2006, I have come back to Japan to establish Newton Information Limited as a cutting-edge risk management consulting firm.
Through my 10 years of business experience in UK and 10 years in Japan, I was fortunate to experience and compare the complexity of risk management in European countries where the culture and people are heterogeneous, which leads to a very different environment from a monogeneous country like Japan. Management of the organization is more complex, and people naturally tend to possess higer sense of crisis. The risk management philosophy and methods are more sophisticated and well practised.
As my years in London went by, there was a growing urge in myself to export this knowledge to Japan -- to bring about higher level risk management concept and make Japanese enterprises and society tougher and more ready.
"Risk management" is a process of "ensuring that the enterprise is able to push forward its business stably and safely".
Enterprises are established, and they flourish. As their businesses expand, their influences increase, and they begin to withhold various risks at all levels of the organization. The deals become bigger and in turn possibility of financial risks increase. Business accelerates, then it will be exposed to quality risks and environmental risks. As social responsibility broaden, enterprise will need to consider business continuity risks. So on and so forth...
Enterprises are bound to face all kinds of risks when contributing to the society, and avoiding risk will mean avoiding growth. Only by realizing the impossible of maintaining the balance of its business and risks, would you be able to succeed as healthy, trustworthy enterprizes.
All enterprises have speciality in which they utilize to contribute to the society and economy, but you may not necessary have the knowledge and expertise to manage their risks. This is where we come in.
We categorize our risk management solutions as follows:
Business Continuity
IT Governance
Internal Control
ISO Certification
Those categories developed according to the demands of our customers. We support wide range of risk management solutions including internal control and ISO certifications, but recently, the most sort after solutions have shifted to business continuity and IT governance.
The difficult point about risk management is that there is no right answer. There is only "how far you want to go" and "how you want to realize it". Yet, there is no point in establishing one if it does not work when needed.
When considering business continuity, enterprises need to assess all risks at all levels of the organization. It will also be important to integrate and possibly tidy up its existing management systems for better future operation. And as the business's dependency on IT expands, risk management in this area is more essential than ever.
Through our vast experience with wide range of customers, we have developed procedures of establishing risk management systems that actually work and solve your problems. So we look forward to helping you and working with you to make the risk management procedure for your enterprise that helps the business to grow.
It's not as easy as it sounds, but with our "Declaration of Passionate Consulting", we will strive to provide the best risk management solution.
We appreciate your high expectations and continuous support to us, Newton Consulting Limited.
January 2010
Newton Consulting Ltd
Chief Executive Officer

Kazuya Soejima